MANY HEARTS ONE LOVE
YEAR | May 8th 2021
LOCATION | BLUE NOTE, Milano, Italy
ROLE | Conceptor + Set Designer + Lighting Designer + Lighting Operator
Lighting Designer and Set Designer: Patrizia Stella De Masi | PHOTONIKA
Director of Photography: Andrea Mantovani
Lighting Desk Operator: Walter Lutzu | PHOTONIKA
CATEGORY | N JOY
ABOUT | 1 Stage. 32 Artists. 14 Million Hearts.
May 8th 2021 has been the World Red Cross and Red Crescent Day. On this occasion, Italian and international artists have performed on the stage of the Blue Note in Milan, important people from the sports industry and culture have joined this unique event to support the precious work of over 14 million volunteers around the world.
PHOTONIKA has been involved to create a conceptual lighting mood for the event and to take care of the technical aspect of the lighting setup.
The vision picked up to express the significance of the event was THE HUMAN GALAXY, where the Blue Note was acting as a cluster of dynamic stars rising from in a blue outer space, the upper and the lower stage as the brightest core of the galaxy, the beautiful lighting sculpture by Catellani & Smith acting as supergiants or supernovas (they actually gave the sense of a greater space), and the candles on the Blue Note tables as vibrant shiny stars, testimonies of an empty audience, due to the pandemic restrictions.
With each performance the virtual galaxy resonated along, echoing with rythms and dynamic color effects the spirit of the star nucleus acting on the stage.
Featuring artists
Bandakadabra, Bebo Ferra, Chiara Buratti, CPM House Band, Enrico Ruggeri, Ermal Meta, Franco Mussida, GnuQuartet, John McLaughlin, Malika Ayane, Mauro Masi, Milo Manara, Niccolò Fabi, Nick the Nightfly, Nicola Lagioia, Olivia Trummer, Paolo Fresu, Nanni Gaias, Stefano Di Battista, Tosca, Walter Rolfo.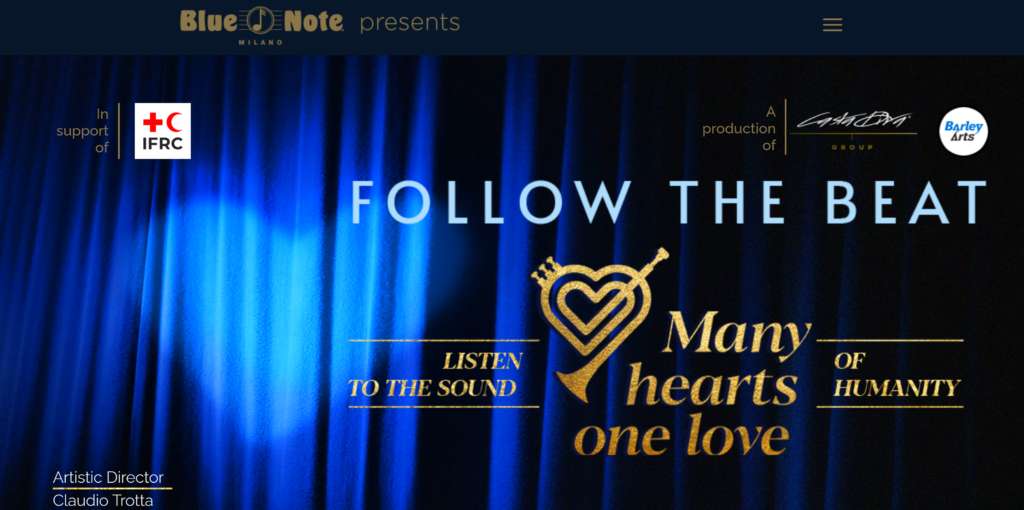 PHOTONIKA 2023 | all rights reserved about the contents of this page